3 Trending Balcony Design Ideas for Your Home
Table of Contents
Is your balcony keeping up with the latest design trends? 
Balconies, once overlooked and underutilised, become a space that bothers no one. But what we often overlook is how seamlessly those spaces can be converted into stylish areas and can be used for multiple purposes.
Gone are the days when a balcony was merely a space to hang laundry or store forgotten items. Now, it is a space waiting to be adorned with unique ideas that reflect your style and enhance your living environment.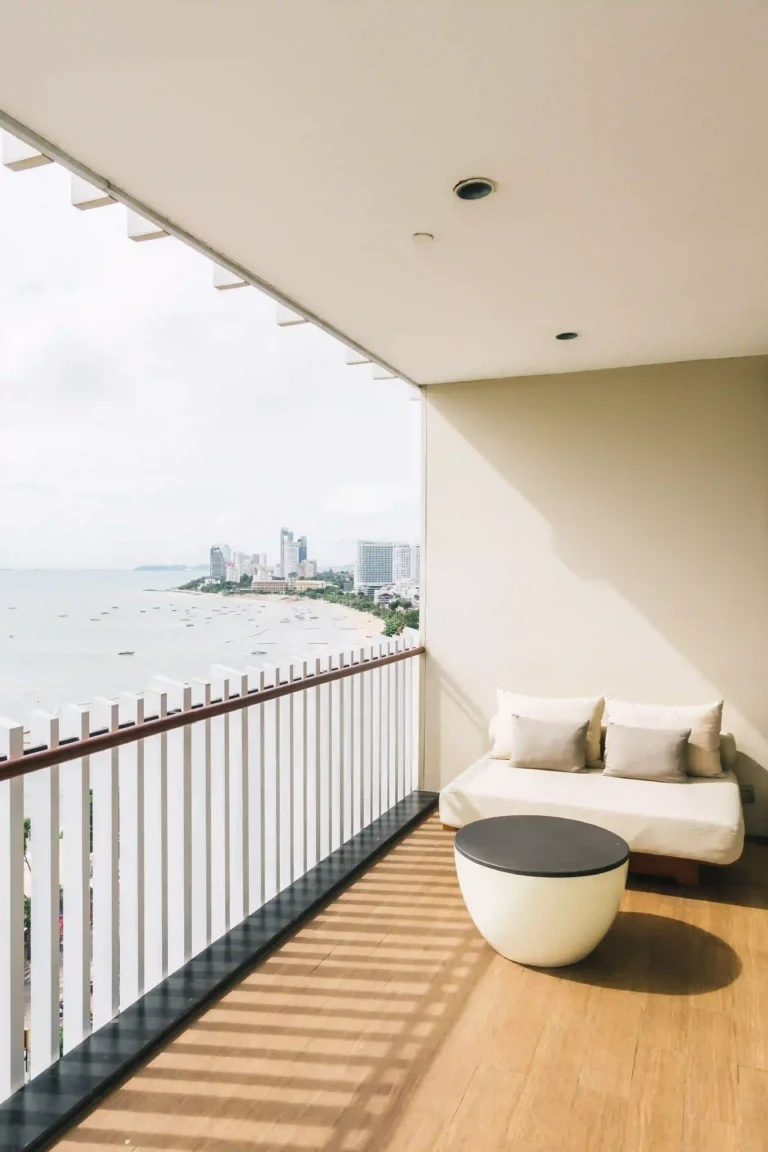 It is a canvas waiting to be painted with your creative brush strokes, a stage ready for your personal design performance.
The balcony, often considered an extension of your home, offers a breath of fresh air amidst the hustle and bustle of modern life. 
Now imagine stepping onto your balcony and being greeted by a sight that calms your senses down and energises your spirit. Whether you live in a compact apartment or a spacious house, there are balcony design ideas for every home.
The trending balcony design ideas of today cater to an array of preferences, personalisation, and aspirations. Your balcony is much more than just a space. It is an opportunity to break free from the boring mundane concepts and design a space that speaks aloud for you.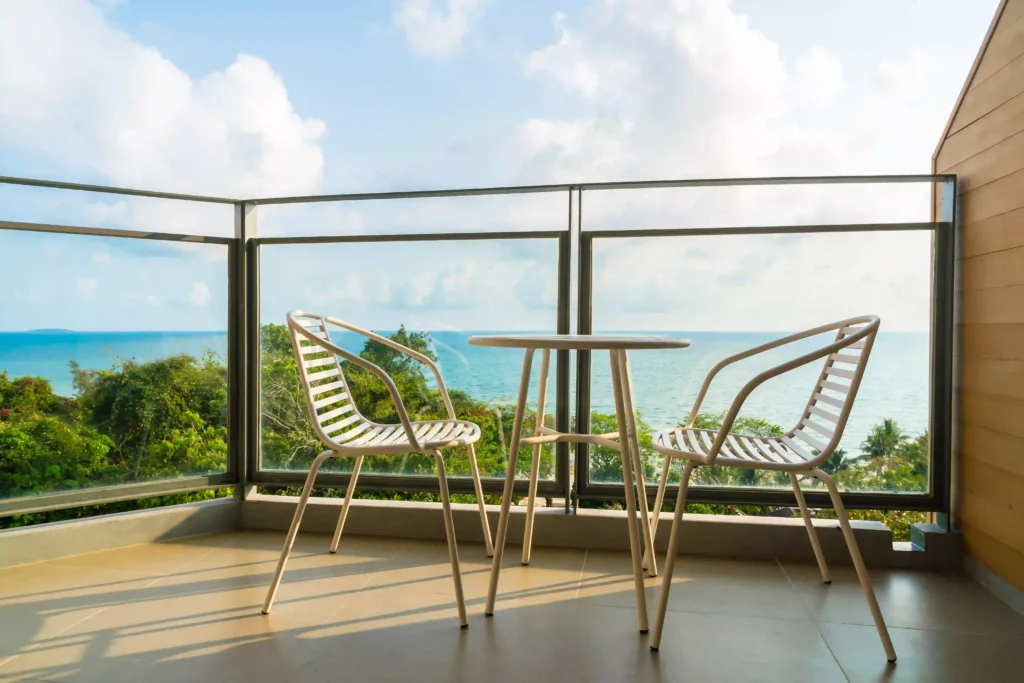 Now that you have decided to take the first step into the journey of balcony transformation, allow your imagination to soar.
Envision sipping your morning coffee in your own little garden, hosting small intimate gatherings under the stars, or simply sitting in your cosy corner, peacefully. Your balcony is an open invitation for you to create a personal space that effortlessly adopts you and blends the outdoor charm with indoor comfort.
In the lines that follow, we will get on a path to know about at least three trending balcony design ideas that redefine outdoor spaces. Each balcony design idea offers a unique perspective and tells a different tale. 
So whether you are seeking a peaceful heaven, or wanting to revamp the space with a touch of quirk, we have got it all for you. Scroll to know!
Boho-themed balcony design ideas
The Bohemian-themed balcony design ideas are like bringing a piece of wanderlust feeling along with relaxation, right at your doorstep. Imagine your balcony as a cosy escape where vibrant colours, soft textiles, and artistic decorations harmonise to create a beautiful pattern. 
Fill your balcony with lively hues, embracing the free spirit of Boho style. Incorporate colours from deep blues to warm oranges. Layer textures with colourful pillows, cushions, blankets, and rugs that invite you to sink in and relax.
You can use dream catchers, hangings, and trinkets, as per your choice, to delve more into the said style.
Also take up on DIY projects that not only add to the theme but also give you a bigger sense of personalization and personal touch. If the space allows you to, then hang a hammock swing to make your balcony design look even more appealing. 
You can also lay down floor cushions for a lower seating arrangement. Add hanging decorations that sway their way along with the slight breeze.
The aim here is to create an ambience that soothes your senses and sparks your imagination. However, it is very essential to remember that magic lies in the balance.
While it is true that the Bohemian-themed balcony design thrives on a mix of patterns and elements, you should try to avoid overwhelming your space.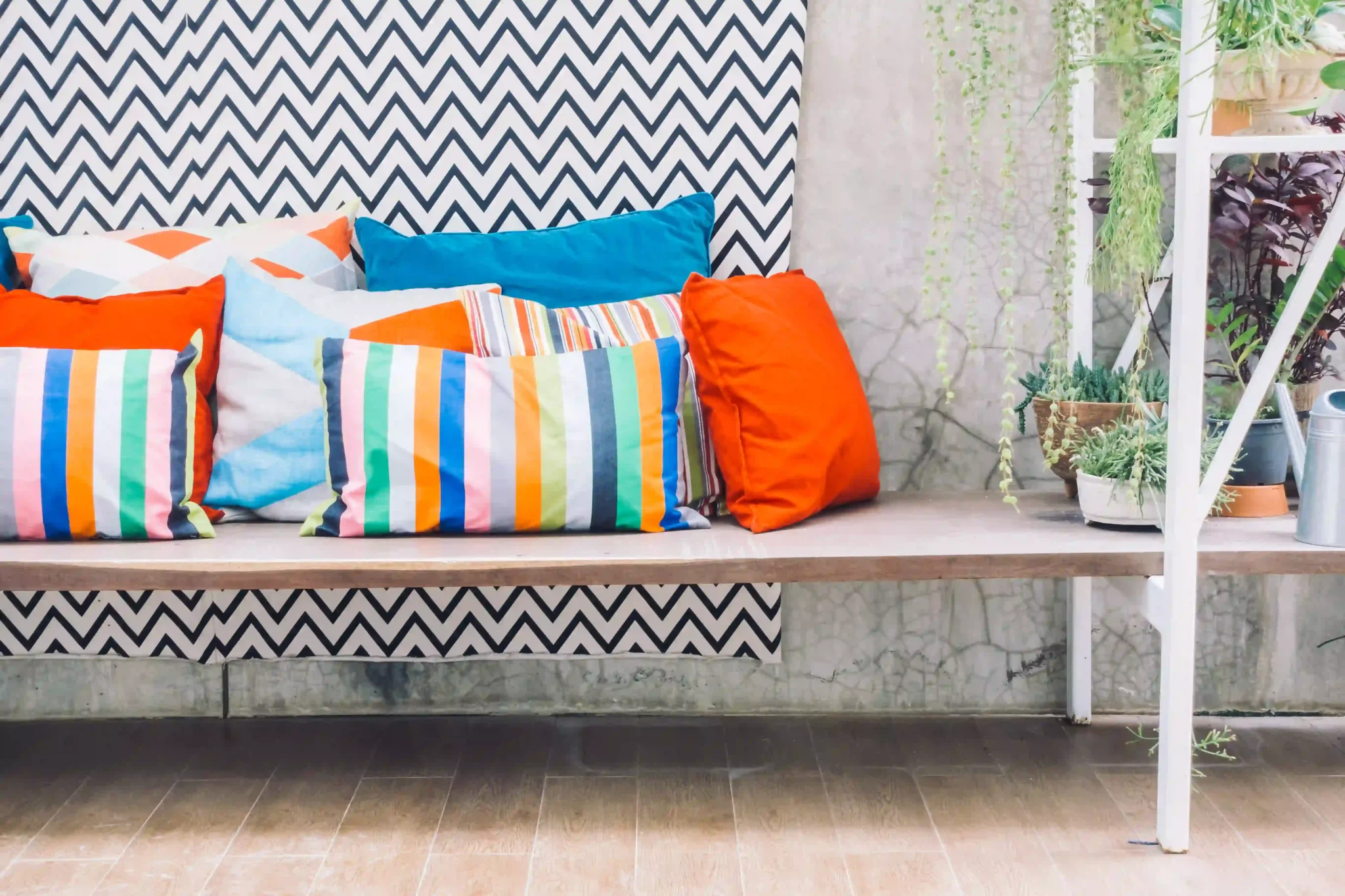 Choose a few statement pieces that speak volumes and complement them with simpler ones. Let your balcony design be an urban retreat that tells different-different tales. 
Green-Garden balcony design ideas
Garden-themed balcony design ideas are the new favourite as far as balcony designs are considered. Balconies of this theme turn the city spaces into blossoming ones. With a longing for nature's touch, these mini gardens are like a cool breeze amid the urban heat.
Are you ready to dive into balcony gardening? Let's roll!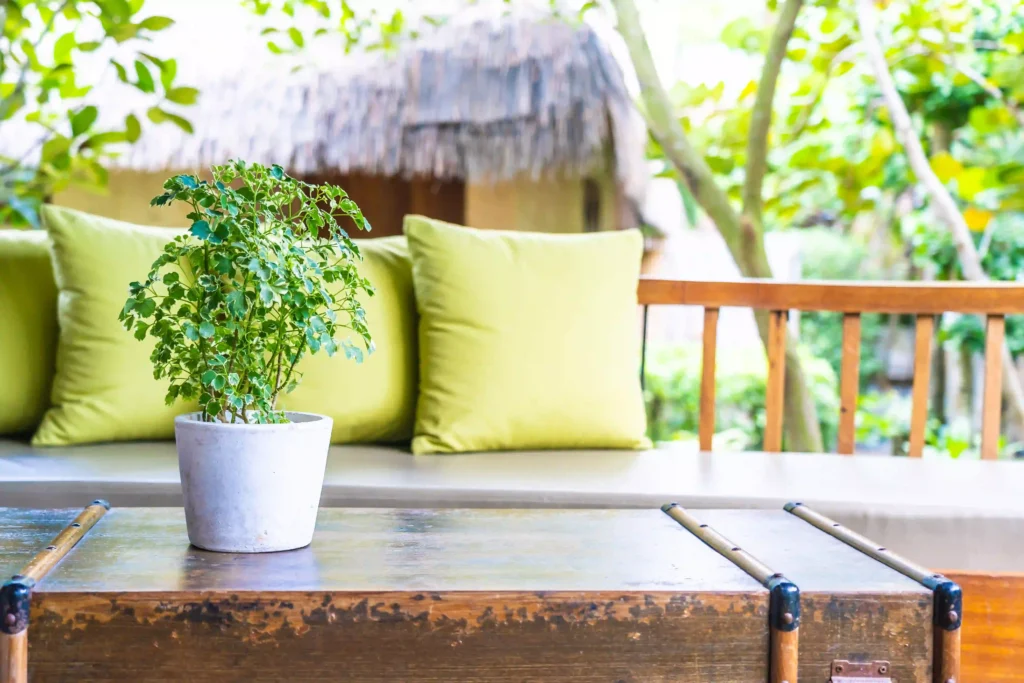 Start by checking if your balcony area received adequate sunlight or not. Sunlight situation and space availability are two important elements to be kept in check while building up a green-garden balcony design idea.
Once you have got that covered, round up pots, soil, and your chosen plant pals. Arrange them with flair. You can stack them, hang them or even line them up. To keep it the final touch of aesthetics, keep the watering can on standby too!
What can be on the green menu?
Hard succulents, fragrant herbs, and cheerful flowers are definitely the superstars for a green-themed balcony design. However, it is to be duly noted that they need your care! 
Water them with a sprinkle of love – just the right amount; not too much, not too little.
Imagine turning your space into a blooming paradise with perky flowery plants and a cute corner of herbs.
Another apt idea would be creating your own little vertical garden. Vertical gardens are those murals which can make people stop in their tracks to adore the natural beauty in front of them.
Transform your balcony design into a leafy retreat and make your daily life feel like nature's getaway.
Modern and Hi-Tech balcony design ideas
Let's dive into the future of balcony designs with a touch of tech magic. Imagine turning your outdoor space into a sleek retreat, where nature meets modern-day living. 
Now, say hello to the star of your balcony show; the smart lighting techniques. Set the mood with lighting of different types; cosy warm for evenings and bright energising for the mornings. Add smart lights that dance to your favourite tunes
What more? Setup for movie nights under the stars seems like a great idea too. Set up outdoor projectors and wireless speakers for a great watch experience. 
Weather-resistant tech ensures that your gadgets and balcony remain safe and sound despite all weather conditions. 
With all these minor and major changes, your balcony is not just a balcony anymore, it has become a tech heaven.
In a world where balconies are no longer overlooked, but instead embraced as versatile extensions of our living spaces, design possibilities are endless. The evolution of balcony spaces from laundry corners to stylish spaces has given rise to trends that redefine outdoor living.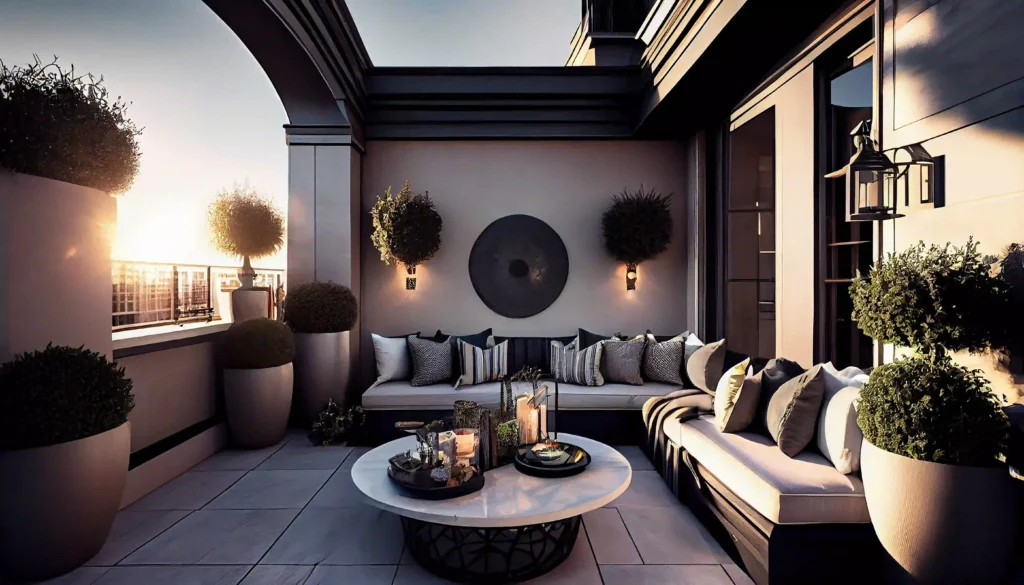 From the boho-themed sanctuaries, weaving vibrant colours and textures into a pattern of relaxation, to the green paradise, and modern, tech-infused retreats, each of the balcony design ideas is a canvas waiting to be painted upon.
Start your journey from mundane to magical today. Of the endless balcony design ideas, choose what reflects your style the best.
So what are you waiting for? Go, get your balconies gorgeous!
Book your free consultation call with our expert architects now!